How the Duke does Sunday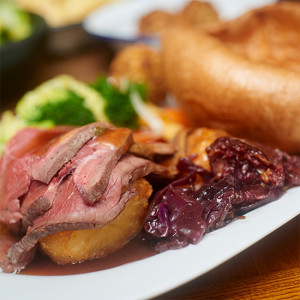 People have many different ideas as to what the perfect Sunday roast involves, but who wants to spend the day shopping, cooking and washing-up.
At the Duke we do something special on a Sunday – our Sunday best menu. Think top quality beef, lamb or pork from Aubrey Allen, bottomless roast potatoes and Yorkshire puds. Tureens of veg, all the sauces you need, ready on the table and not forgetting the unlimited supplies of hot gravy. That's why we think our roast tops the lot and our guests seem to think so too:
"The best Sunday roast I've had in a long time. Friendly staff and a relaxing, well presented setting."
 "Stopped in for a quick lunch and for stayed hours. Excellent service from helpful and friendly staff. The food was tasty and plentiful. I'd love to have explored the menu more. Nice surroundings too and parking out back. Well worth visiting."
"The recent revamp has really made this a very welcoming pub where you can spend time as a couple, family or in a big group. Staff are friend and helpful."
"Beautiful Sunday lunch out in the sun, amazingly quick service and good value for the quality, definitely going back."
"Just celebrated my birthday with 19 members of my family. Food was amazing and the staff 1st class. We all had the Sunday roast best yet! Thanks to all the staff for making today so special."
Did we mention that we'll even do the washing up? Why not book your table and enjoy your roast this weekend, while we do the hard work?