East Horsley's The Duke of Wellington Returns
We reopened this week, following a top to toe refurbishment by our new owners The Peach Pub Company, who have transformed our East Horsley pub into a warm and welcoming place to enjoy good food and drink and friendly service.
Just as it did four years ago at sister pub The Chequers in Eversley Cross in Hampshire, and before that at The Richard Onslow in Cranleigh, Peach has restored an historic inn to its former glory, bringing back its dignity and making it a lovely English country pub.
The Duke of Wellington has had a long history of being a great village inn. The original building was constructed in 1561 and was converted into a pub in 1576, when it was known as The Greyhound. In the 1840's it was remodelled by Charles Barry, the architect of The Houses of Parliament, and like a lot of buildings in East Horsley, was faced with decorative brick and flint work that was the personal preference of William King, the first Earl of Lovelace, who owned nearby Horsley Towers.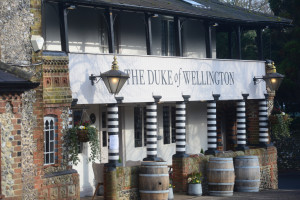 In renovating The Duke of Wellington, Peach has stayed true to the building's rich history. The striking exterior has been carefully restored right down to the brickwork columns, which have been repainted in their original black and cream stripes, and the distinctive arches with their terracotta tiles and friezes. There is a new outdoor seating area with chairs and cushions to sit and have coffee, freshly painted frontage and a new hanging sign featuring the Duke clutching a pint of ale.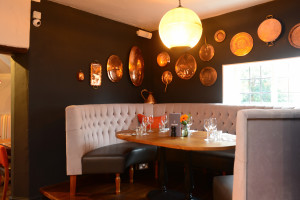 The cosy interior has been turned into a comfy, welcoming space using warm colours, lots of copper and brass, silver and polished wood.  Rich cream and olive walls are teamed with English country pattern fabrics and deep brown button backed dining chairs in the eatery, alongside period pieces making every seat one you want to sit on and every table having something about it.  A large table lit by globe lights and raised on a dais to the side of the eatery is perfect for parties and gatherings, offering the place to see and be seen whilst you're dining.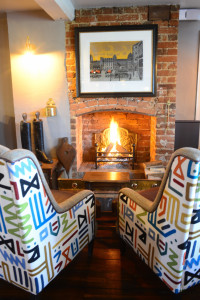 The bar is inviting, too, with plenty of spots to read the paper or have lunch. There are two big open fires, one with a gleaming copper surround, with armchairs upholstered in bold geometric fabric and rich brown leather, exposed brick and accessories that nod to the history of the building; 1830's political cartoons of The Duke of Wellington, statues of Napoleon, shell case carriers from the Battle of Waterloo and even a pair of Hunter boots in the lobby.
The team running the pub is led by manager Sian Lewis, who is aiming to replicate the success she had at The Chequers in Eversley Cross and bring a great pub back to the village of East Horsley.
"This is a stunning pub with a big dose of kerb appeal and in giving it the transformation it deserves, we've worked hard to preserve the history of the building and make it a really homely, comfortable place that anyone can come to night or day, and find a warm welcome and plenty to eat, drink and entertain them," says Sian.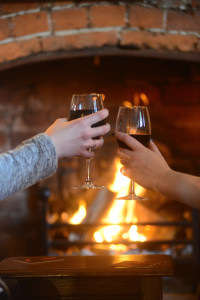 "We've thought just as much about what's on offer, and have also put together a lovely menu of fresh, seasonal food, with a collection of classic dishes and daily changing specials that are what great English pubs are all about.  We'll also be serving a particularly good selection of wines by the glass and bottle, many of them fabulous world class wines, all at reasonable pub prices.  We'll mix cocktails, like our incredibly popular grand gin, your choice of gin and tonic mixed in a grand coupe with plenty of ice, fruit and juniper berries.
"Sunday lunch will be a highlight, with top quality meat, extra Yorkshires and roasties followed by traditional puds like crumble and custard to serve at your own table," she says.  "There will be regular events, with evenings to educate and entertain, and an award-winning team at the helm making sure everyone feels right at home. So keep an eye on our new-look website for all the news and pop in and say hello soon."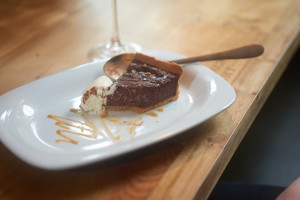 The kitchen at The Duke of Wellington will be open for breakfast, lunch and dinner and everything in between.  Get your day off to a good start with free-range bacon and sausages from Jimmy Butler and local free-range eggs; Ibérico chorizo hash and free-range fried egg with brown sauce or coconut milk porridge laced with raisins, almonds, toasted seeds and honey.
Main courses include Merrifield Farm duck breast and duck cottage pie with baby carrots and port and juniper reduction; slow and low Cornish lamb shank with pearl barley and peas and spring greens, big sharing steaks and What's The Fish, fabulous fresh market fish like turbot and halibut, simply done with seasonal sides.