Sian & Joe's Tour de Pêche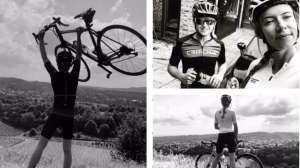 Join us in supporting Joe and Sian as they cycle from the pub to Paris. All to raise funds to start an Intergenerational Weekly Music Group for those with Dementia. Here's their story…
In the recent years, people close to us have been battling with or have developed Dementia. We've seen the strain they have gone through, and the trauma.
Now is the time to make a difference and help those who are going through the same thing. This is not just about helping those with dementia, it's about bringing the whole community together, no matter who they are. To do this we are setting up an Intergenerational Music Group in East Horsley, which we believe will make a big difference as there is nothing like this locally.
To raise funds for this we will be cycling, a great hobby of ours, 600 miles to Paris and back from The Duke of Wellington between 15th – 21st May 2022. This will be one of the biggest challenges we've taken on together. 
As we are yet to come up with a name for the music group, we will be raising funds through The Loop, a charity that helps other charities, based in East Horsley.
All support is so very much appreciated. To find out more, or donate, please click here.
Love Sian & Joe x